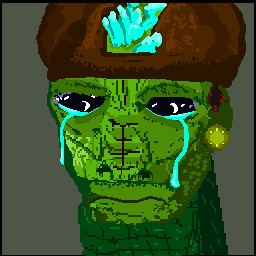 The protagonist mourns the end of Maiveos Game Dev. He looks a little like Pepe. - edited by altan, original by mikix
Hey all,
It is sad to say as the programmer of the dev team that the project lead and artist, mikix, has decided to quit on this game development due to personal reasons. In case this is the first time you are reading this, I would suggest visiting our main landing page at the yoyogames forum here (https://forum.yoyogames.com/index.php?threads/maiveos.33553/#post-216309 ).
Today, marks the official end of Maiveos game dev and anyone who have been following this dev please mourn for the end of a great game idea. I would like to thank all who have supported the game and provided countless (and brutal) feedback from the Pre-Alpha Demo we have been releasing since the 1st of September 2017. Although the project was short lived, but the essence and lore of the game will live on as an Alpha Demo which will be released as a free game for everyone to play and enjoy.
A little background and post-mortem for our development team. Me and mikix started this journey around mid August of 2017 and we started discussing about the game idea via the forum conversation system. He proposed to me an idea of a world where humanoid lizards live in a structured society and living among prehistoric animals. I though the game premise was reasonable enough to be developed so I decided to contribute my programming skills into building his game.
Everything was going well, and in 2 weeks we manage to complete a playable game and have it release in the Yoyogames forum on 1st September 2017. Oddly enough we gained over 8000 views in a few days but we didn't setup any analytic in order to accurately measure the download rate. After 3 weeks into development and releasing our proper Pre-Alpha build on 18 September 2017, the project did not gain any traction and mikix effort in marketing the game was in vain. He then discussed with me about several personal concerns about the project and it lead to him making the final decision on having to abandon the project. I can say for sure there were no tension or dramas between us and our collaboration was just plain, simple, and straight forward. Now he has given his consent to me to continue the development since I personally would like to finish the game up to the Alpha stage.

So all is not lost as I have agreed on continuing the development of the game until it reaches the Alpha stage. The Alpha stage should at least consist of:
One stage consisting of two playable levels (Healing Platform and Magesa Temple level) complete with story and cinematic in each level.
Cut scene for the beginning and end of the first stage.
Improved AI enemies and boss battle.
Sound and background music.
There will be some additional artwork from me to supplement the missing artwork in the game. So progress on the game will be slow but it is expected to be completed by mid October.
Please add this to your collection if you like to follow my progress or leave a comment down below .
Thank you.
altan

Get Maiveos - The Mask of Acknowledgement